Letter to First Ministers | Signatories | Research Report | Social Media Shareables | Media

December 4, 2019
Dear First Ministers,
Building a low carbon, high performance economy is a vital environmental responsibility. It is also a major economic opportunity for all sectors and regions of the country. As a diverse group of leaders from business, labour, youth, Indigenous and environmental organizations across Canada, we believe the time for us to capture this economic and environmental opportunity is now.
The evidence and the urgency for seizing this opportunity is all around us. Globally, the transition to a clean economy is estimated to be worth $26 trillion and 65 million new jobs by 2030.1 This will create opportunities in all sectors. Canada's cleantech sector can tap into a growing global market set to double in the next five years. And boosting innovation and efficiency in the resource and energy sectors – in which Canada has great strengths – represents a $3.6 trillion opportunity by 2030. Becoming a leader in clean performance and innovation will strengthen our competitiveness, attract capital, generate good jobs, and improve Canadians' quality of life – as summarized in a new report released today by Smart Prosperity Institute, entitled "8 Reasons for Canada to Transition to a Clean Economy Now".
Canada is well positioned to seize these opportunities. We have a highly skilled work force, strong entrepreneurs and innovators, world-class financial institutions, proven economic strengths in many sectors, and a population that is ready to act for a cleaner, better future. And we have already started. All around us we can see a shift towards emissions-free vehicles, greener energy, cleaner industrial production, and smarter, more efficient buildings.
Let us build on that momentum. The policies, plans and programs brought in by many governments across Canada in recent years have laid the foundation for success. But more is needed. Now we must ramp up our efforts, and focus on implementation to achieve real progress for a stronger, cleaner economy. To capture this opportunity, we urge you to act on eight key priorities:2

Green infrastructure and procurement: Build the advanced energy, transportation and urban systems for a low carbon, resilient future. Government can lead by example as an early adopter and showcase for promising Canadian clean technologies.

World-class regulation: We need agile, stringent and efficient environmental regulatory systems, to spur clean innovation, attract capital and strengthen competitiveness, as recommended by the Economic Strategy Tables.

Clean investment: Provide the information, incentives, policy predictability and public co-funding needed to unleash private investment and support clean growth across Canada's economy.


Smart tax reform: Provide tax incentives to grow clean technology investment and adoption; design carbon pricing to support households and businesses in making the low carbon transition.


Invest in natural capital: Conserve Canada's lands and waters – the foundation of all our wealth – and invest in measures to store carbon, sustain biodiversity and strengthen resilience in natural systems; build a more circular economy to reduce waste and use natural resources efficiently.


Future skills and just transition: Invest in education and skills to prepare a new generation of workers and entrepreneurs to succeed in a clean economy, support Canada's youth in collaborating on climate solutions, and provide a just transition for workers and communities affected by change.


Clean competitiveness roadmap ("Pan Canadian Framework 2.0"): Bring together key players to "map Canada's long-term path to a low-emission, climate-smart economy, sector-by-sector, with an associated capital plan", as recommended by the Sustainable Finance Panel; address key issues, such as helping energy-intensive sectors transition to low carbon competitiveness, and growing opportunities for Indigenous sustainable development.


Global solutions: Canada should punch above its weight in exporting the clean technologies, services, products and resources needed to build a global low carbon economy, using the cooperative mechanisms in the Paris Agreement where appropriate.

It is time to come together as a nation, and redouble our efforts to build a clean, prosperous future for all of Canada. We can do this. With strong, coordinated leadership from all governments, we can unleash private initiative and support communities across Canada, to build on the momentum already underway. Each of us is committed to lead by example in this effort, in our own organizations and networks. And we stand ready and willing to help Canada's federal, provincial and territorial governments in every way that we can.
Meredith Adler, Executive Director, Student Energy
Ross Beaty, Chairman, Equinox Gold Corp. and Pan American Silver Corp.
John Coyne, Vice-President, Legal and External Affairs, Unilever Canada Inc.
Michael Crothers, President and Canada Country Chair, Shell Canada
Stewart Elgie, Professor, University of Ottawa; co-Chair, Smart Prosperity
David Hughes, President & CEO, The Natural Step Canada
Greg Kiessling, President, UpCapital Ltd.
John Lounds, President & CEO, The Nature Conservancy of Canada
Jane McDonald, President (interim), International Institute for Sustainable Development
Lorraine Mitchelmore, co-Chair, Smart Prosperity; corporate director, and former oil & gas CEO
Ken Neumann, Canadian National Director, United Steelworkers
Merrell-Ann Phare, Founding Executive Director, Centre for Indigenous Environmental Resources
Miles Richardson, Director, National Consortium for Indigenous Economic Development
Mark Rowlinson, President, Blue-Green Canada
David Runnalls, Board President, Pembina Institute
Jean Simard, President & CEO, Aluminum Association of Canada; co-Founder and Director, SWITCH
Bruce Simpson, Senior Partner, McKinsey and Company
Marcia Smith, Senior Vice-President, Teck Resources Limited
Merran Smith, Executive Director, Clean Energy Canada
Rick Smith, Executive Director, Broadbent Institute
Dominique Souris, Co-founder & Executive Director, Youth Climate Lab
John Stackhouse, Senior Vice-President, Office of the CEO, Royal Bank of Canada
Craig Stewart, Vice-President, Insurance Bureau of Canada
Kirsten Tisdale, Managing Partner, Ernst & Young
Annette Verschuren, Chair & CEO, NRStor; co-Chair, Smart Prosperity
Rob Wesseling, President & CEO, The Co-operators

2 More detail on these priorities can be found in recent reports from Smart Prosperity and from a number of advisory bodies, including the Economic Strategy Tables, the Sustainable Finance Expert Panel, the Just Transition Taskforce, the National Advisory Panel on Nature, and in similar reports at the provincial, local and international levels.
---
Research Report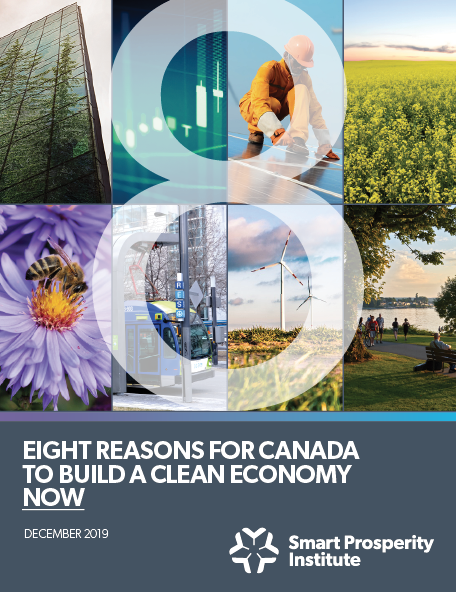 READ THE REPORT: Eight Reasons for Canada to Build a Clean Economy Now
---
Social Media Shareables